Thermal
Cycling, Warpage, Expansion
DIC has the power to get data where other sensors can't, no matter the temperature
ARAMIS Thermography
ARAMIS Thermography is unique in its ability to read full-field temperatures in 3D coordinates. This provides broad capabilities in understanding your materials, structures, and processes with cutting-edge data on material properties. Optical Strain measurement uses the changes in temperature during a test to correct the total strain measurements for thermal expansion and to measure the true mechanical strains.
The most common applications for ARAMIS Thermography are in automotive and aerospace engine testing or operations like welding, where temperature differentials play a huge part in the material and structural response.
Thermal changes and 3D necking can significantly affect your material properties. ARAMIS 3D-DIC with thermography corrects for these effects, providing highly accurate material properties. NASA used our system to measure difficult material properties of epoxy resin and then applied the same methods to their composites and metals, finding better, more consistent data for each.
Thermal Chamber
Trilion thermal chambers are capable of real-time, optical, and non-contact thermal expansion measurements for parts ranging in size from a few millimeters to several centimeters, making it the perfect tool for microelectronics testing.
ARAMIS Thermal software controls the thermal chamber operation, running it through various temperature profiles. ARAMIS is calibrated through the window of a thermal chamber. Our Real-Time-Sensor module quantifies length changes between various points on the surface of a specimen as it heats up and expands in the thermal chamber. Our customers have validated our methods, and leading companies in the industry have measured precision thermal expansion coefficients of various custom materials.
This fully integrated solution for oven measurements provides accurate results on many applications, such as fatigue caused by thermal cycling. The thermal oven is internally illuminated to allow the cameras to see through the oven's factory custom-designed windows to the test part held by a special specimen holder. Our thermal software provides full-field and temporal processing to reduce noise at higher temperatures.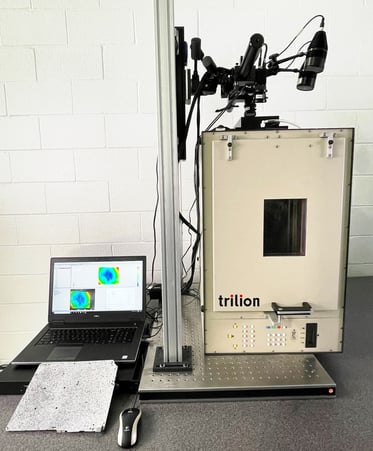 Product highlight
InfaTec's Variocam HDx 600 shows its strength wherever there is a need for fixed installation in harsh industrial environments or laboratory tasks require computer-based support. Compact housing dimensions and minimal weight allow easy integration into existing system environments.
Want to learn more?
Our team can discuss and demonstrate most of our products and applications virtually to you today!