ARAMIS Optical
Motion, Positioning, Photogrammetry, 6-DoF, Tracking
Optical 3D Metrology

Real-time

Motion Tracking
Schedule a

Virtual Demo

See why PONTOS LIVE is perfect for your application!

Headache-free displacement measurement
That's right, optical metrology can be integrated into existing test environments, test benches, and testing machines quickly and effectively since it is non-contact and can measure 3D coordinates of any point in the CAD coordinate system. That means you can add dozens of data points to a test without tedious mounting of a reference structure for LVDT or worrying about cable friction and wire contact for string pots.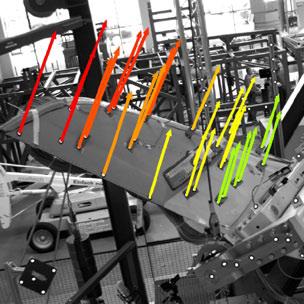 Combine point cloud scanning with motion tracking
Thanks to GOM's photogrammetry technology, you can build a complete point cloud of an object or part and then track its motion in 360° as it rotates in and out of the measuring volume. No need to build it all from a single reference stage. All in a single software interface.
Capture a 360° geometry of a rigid body and identify the part as it comes and goes into the field of view of your stereo-imaging measurement. Or use the point cloud to build a relevant local coordinate system using features that are not visible in the reference image of a project.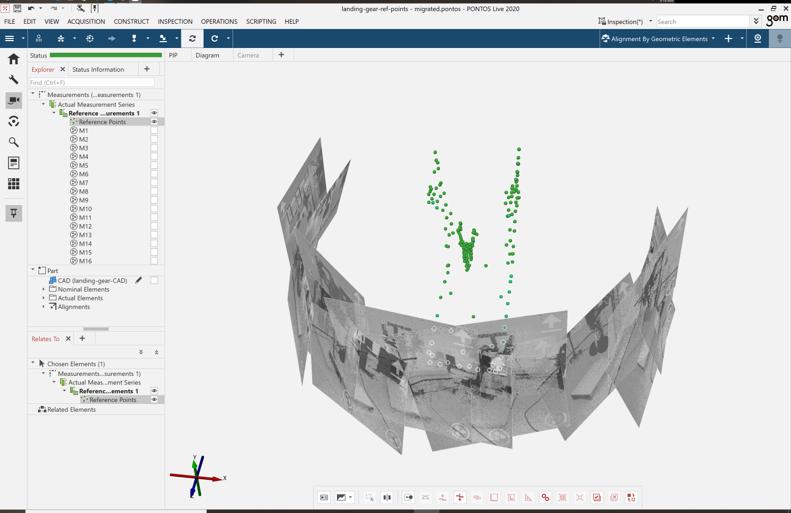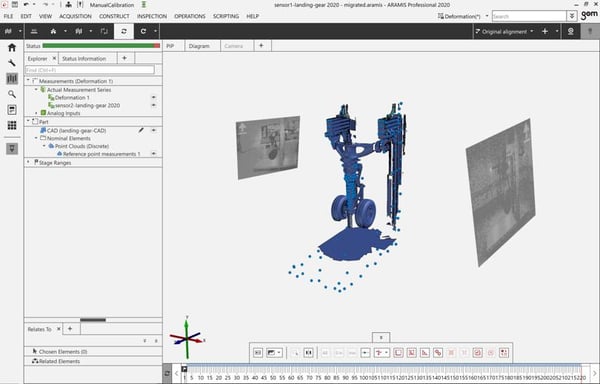 Automatically locate the sensor position and align multiple data sets together with a shared coordinate system. Useful when multiple point of views are necessary.
The live functionality allows online measurements and online positioning. It is supported when measuring with GOM Touch Probes and GOM Adapters so that components can be specifically aligned and positioned to the CAD in an online measurement.
Need to track a specific geometry like the center of hole? Transform any tool into a Smart Tool by making it an Adapter. It offers expanded options for the live measurement such as component positioning or the measurement of geometrical elements and edges.
The stereo camera system provides precise 3D coordinates of reference point markers. The preset and certified lenses are integrated into an industrial housing, leading to high stability with fewer requirements for sensor calibration. Users can easily change the measuring volume and thus measure small to large objects.
GOM TOUCH PROBE
The GOM Touch Probe is a tactile add-on for measuring systems, which is optically tracked by the system. It is used for tactile measurements and allows measuring coordinates even in areas that are difficult to access.
Mobile Optical 3D Measuring System for Online Photogrammetry
ARAMIS Optical Motion is GOM's solution for positioning components, as for a precise alignment on CNC machines or for the adjustment of fixtures. Combined with the GOM Touch Probe, and previously known as PONTOS Live, the GOM Suite allows the inspection of areas that are optically difficult to access.
Based on the triangulation principle of photogrammetry, our system analyzes components of different sizes – from a few millimeters up to several meters – point by point and regardless of the material.