ATOS Q Scanner
Versatile, Accurate, Quality Inspection, Portable, Fast, Powerful, Precise
Fast 3D Inspection
RESULT BASED
Next-Generation Product Testing And Measurement
Trusted by Fortune 500 companies across a dozen industries.

Take Advantage of the Triple Scan Principle
ATOS Q uses a 3-in-1 sensor design. The right and left camera interact with the sensors to create one precise measurement.
Take a look at the Scanner
ATOS Q captures high-detail data. Our Triple Scan Tech is helpful for measuring reflective surfaces and indented objects. The Blue Light System provides bright, uniform, and speckle-free light projection.
With help from the Blue Light Equalizer and fast data processing, ATOS Q provides high-level performance. The Blue Light Equalizer enables high-speed fringe projection and powerfully handles uncooperative surfaces with short measuring times. It allows for high data throughput with industrial ports for fiber optic cables and robust plug-in connections.
Designed for industry use, the ATOS Q provides fully trackable measuring results. The powerful optical 3D sensor are dust and splash proof, making them suited for the shop floor.
ATOS Q is versatile with Manual, Semi, and fully-Automated modes. Semi-automated mode works with a tripod, rotation table, etc..
ATOS Q projects a precise fringe pattern on the surface of the object, which is captured by two cameras. The projection uses narrow-band blue light, which filters out ambient light during image acquisition.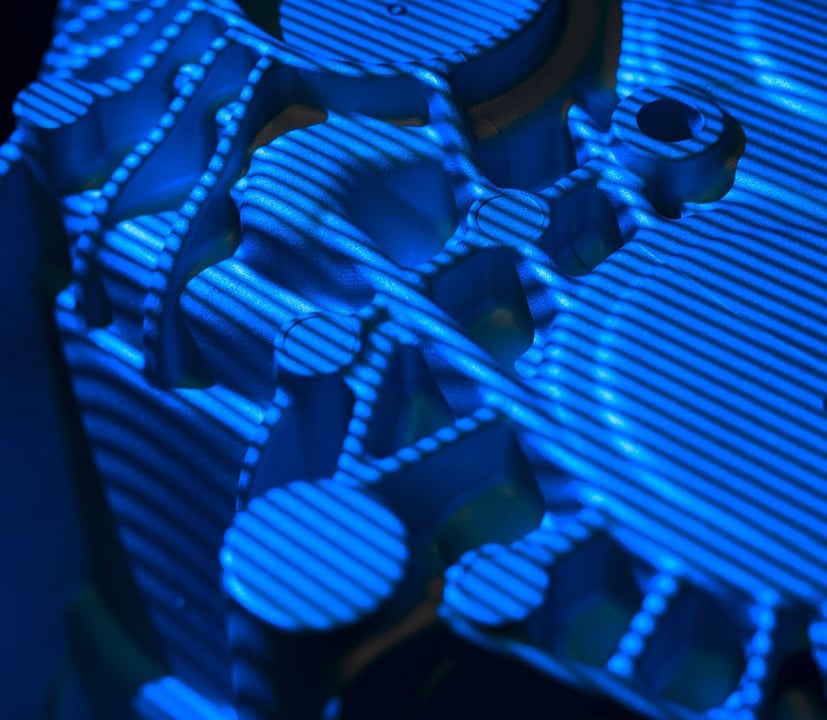 ATOS Q is designed to work on complex parts and inspection tasks in multiple industries. Using inter-changeable lenses ensures high-quality measuring of small to medium-sized parts.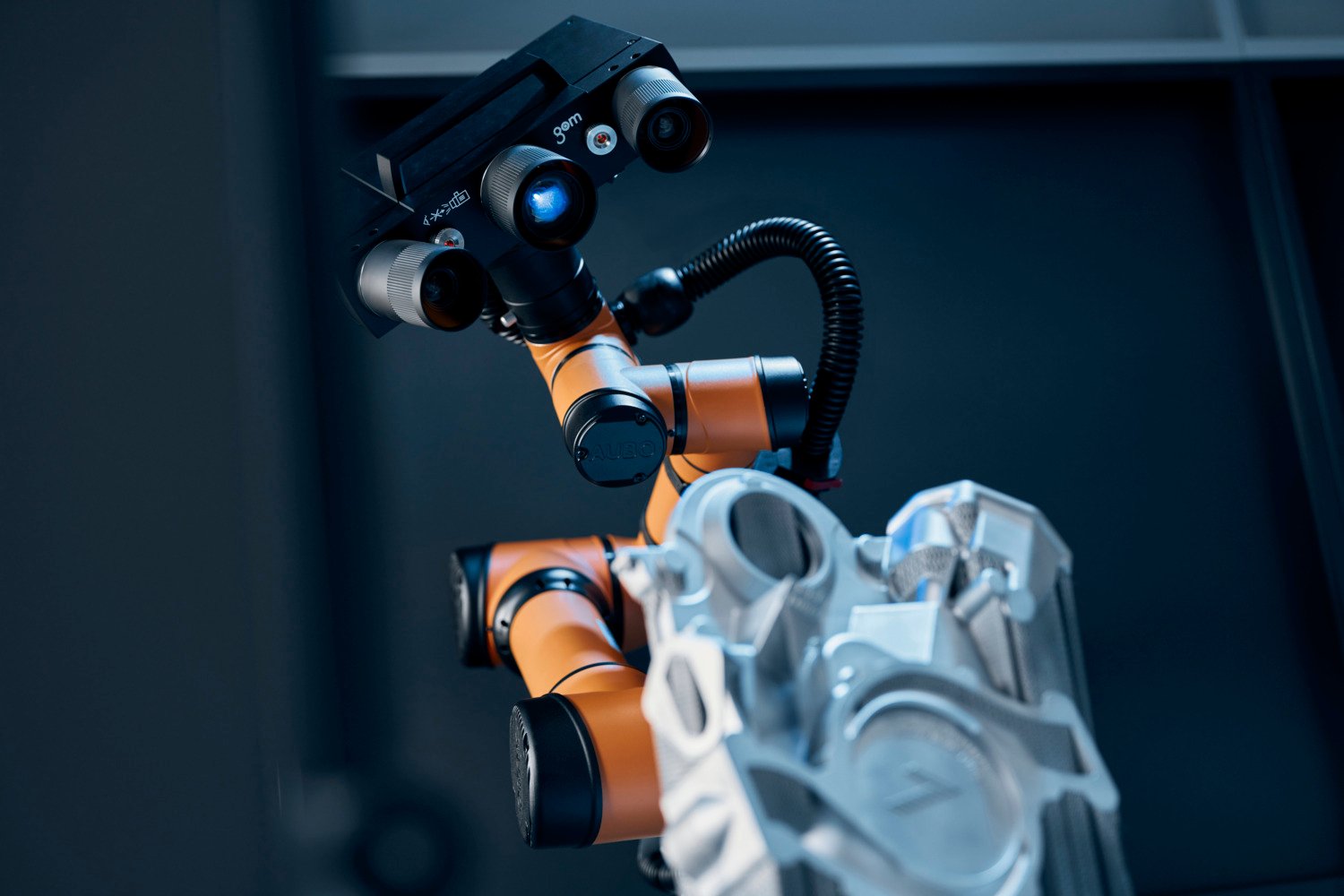 At under 10 pounds, ATOS Q is simple to move around the lab and easy to pick up or attach to a tripod, desk stand, etc.. It's compact size allows it to fit in a small case and travel to the test site.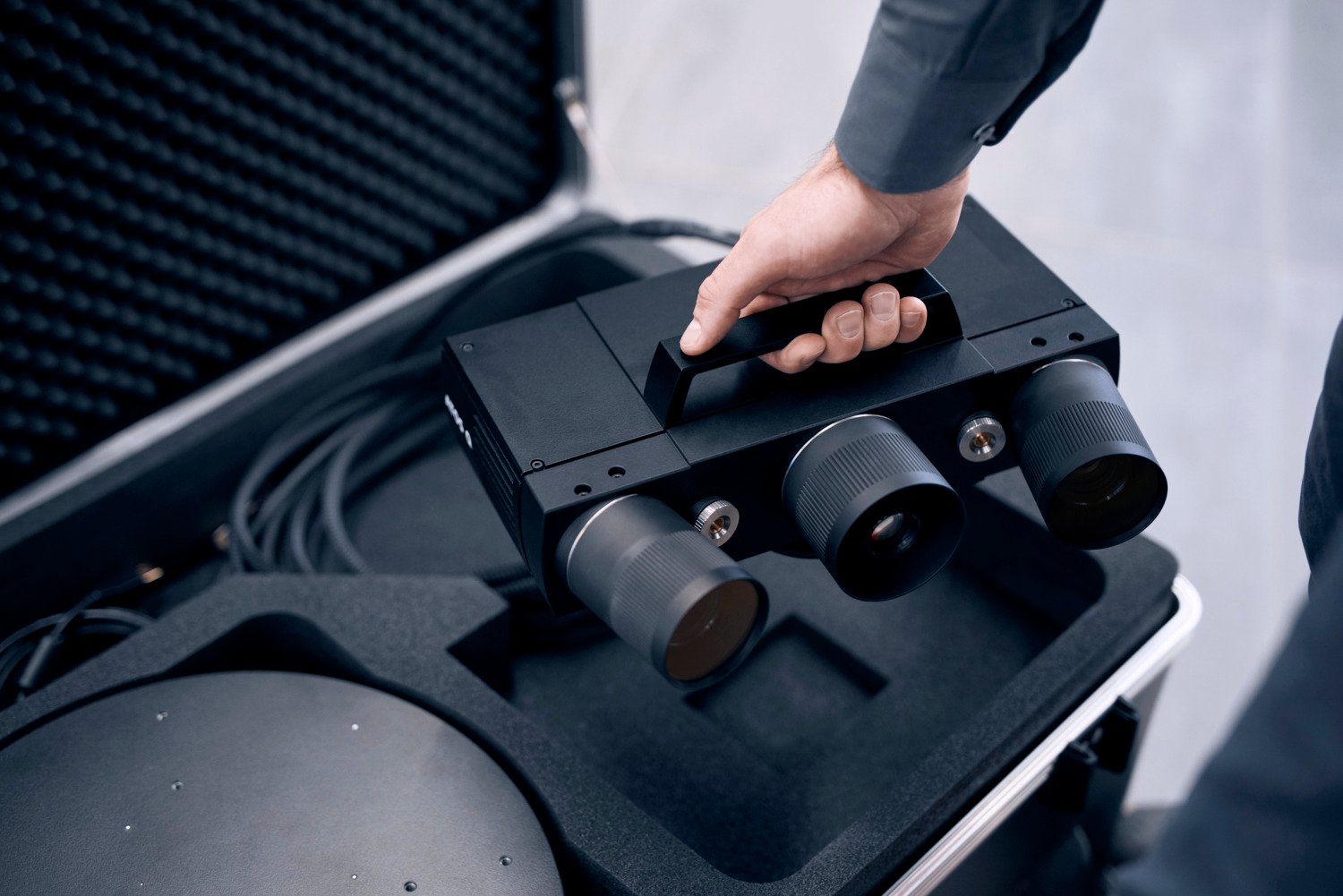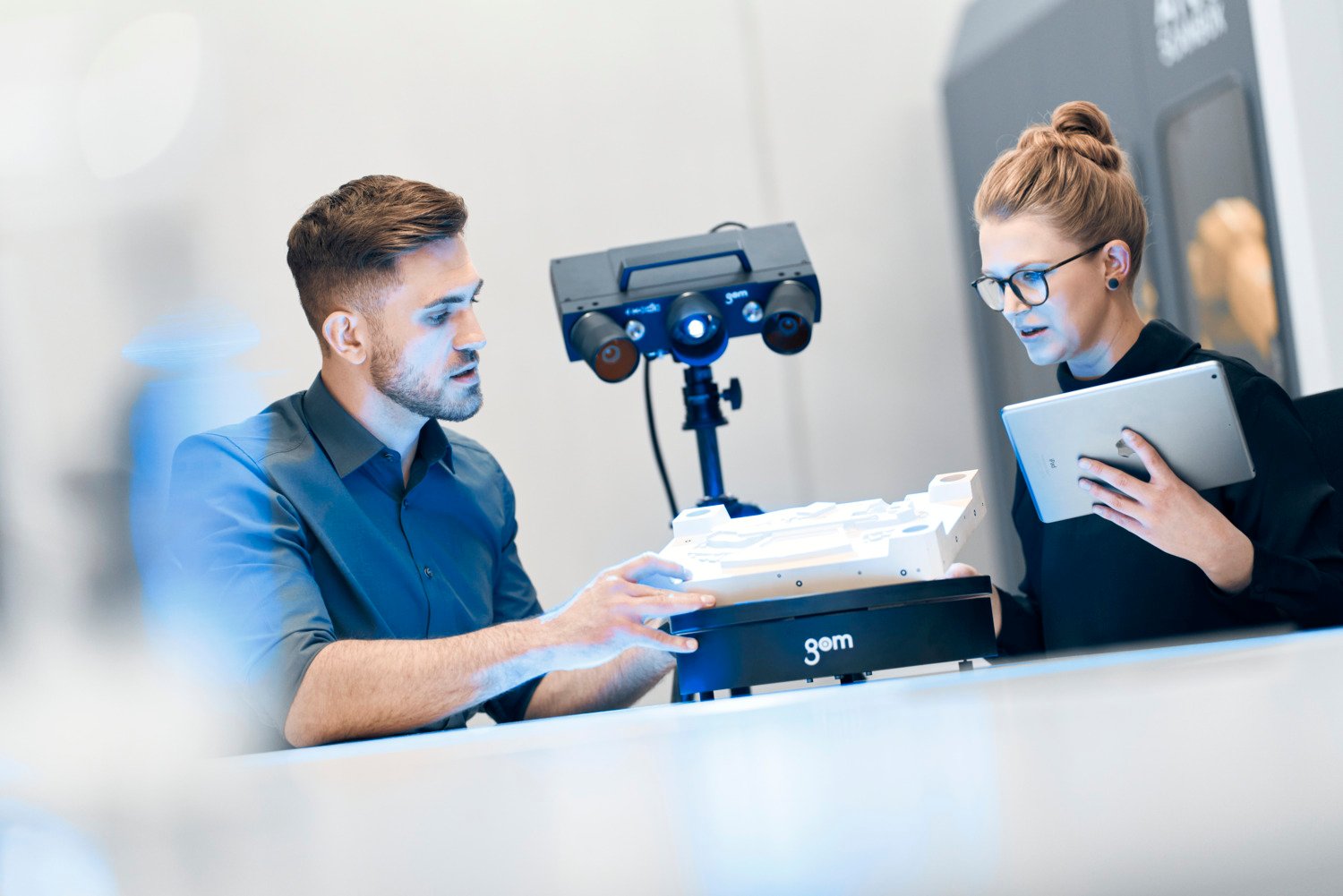 ATOS Q MODELS
Discover which one best fits your scanning needs.
| | | |
| --- | --- | --- |
| | ATOS Q 8M | ATOS Q 12M |
| Light source | LED | LED |
| Points per scan | 8 million | 12 million |
| Measuring area [mm²] | 100 x 70 - 500 x 370 | 100 x 70 - 500 - 370 |
| Point distance [mm] | 0.04 - 0.15 | 0.03 - 0.12 |
| Working distance [mm] | 490 | 490 |
| Weight | Approx. 4 kg | Approx. 4 kg |
| Dimensions | Approx. 340 mm x 240 mm x 83 mm | Approx. 340 mm x 240 mm x 83 mm |
| Cable length | 10 m fiber optic cable | 10 m fiber optic cable |
| Operating system | Windows 10 | Windows 10 |
| Measuring volumes | 100, 170, 270, 350, 500 | 100, 170, 270, 350, 500 |
| Software | GOM Inspect | GOM Inspect |