Virtual
Thursday 14:00 - 14:45, September 29, 2022
What Tools You Need in Your Crash Testing Toolbox
Register for this event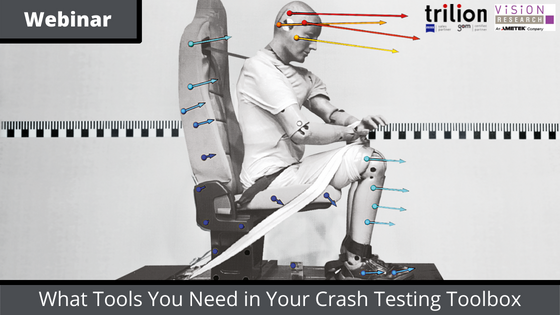 Event description
Engineers working in Safety and Crash testing labs know that their testing is incredibly fast and hard to characterize. In addition, the analysis is challenging, with strain, displacement, and vibration sensors limiting their capabilities. They often already use cameras for witness photography, holistic understanding, and quality assurance of their boundary conditions. Now, Zeiss GOM Metrology offers a way to quantify those images, and their distributor—Trilion Quality Systems—works with high-speed camera companies to configure 3D sensors to break new ground for 3D strain, displacement, and vibration with micron or sub-micron level accuracy.
Discover the ways to save valuable time and money with these new additions to your testing toolbox, 3D DIC Optical Strain. In this webinar, you will find the top tools that crash testers are utilizing. Join Trilion Quality Systems and Vision Research – AMETEK (maker of the high-speed Phantom camera lineup) for our free 45min webinar on September 29th. The webinar will include demonstrations of the technologies and a Q&A session. Trilion and Vision Research hope to empower your teams to get more data in less time.
Agenda
This 45-minute webinar will be hosted on September 29th at 2:00 pm EDT.