Virtual
Thursday 14:00 - 14:45, August 25, 2022
The Top Quality Assurance Tools for Injection Molding
Register for this event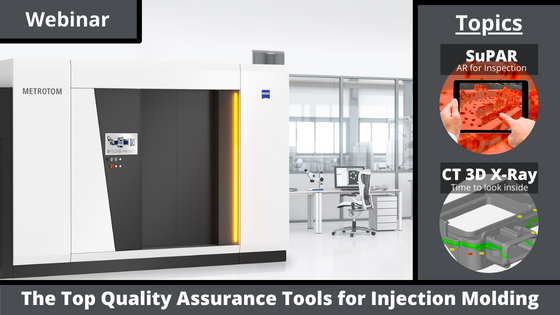 Event description
So many variables can lead to irregularities during the Injection Molding process, but consistency is vital in manufacturing. That is why it's critical to have the proper quality assurance (QA) tools in place to catch these defects quickly, accurately, and cheaply.

During this webinar, you will discover The Top Quality Assurance Tools for Injection Molding. You will learn about Zeiss CT 3D X-Ray, which can quickly find not only external defects but also internal ones. We will also cover SuPAR Augmented Reality Interactive Inspection tool with many use cases such as drilled mold plate geometry check, injection mold assembly, mold maintenance, plastic parts geometry check, and many more.

Join us on Aug. 25th at 14:00 to take the first step in reducing your quality assurance issues!
Agenda
This 45-minute webinar will be hosted on Aug. 25th at 2:00 pm EDT.